Application examples planetary gears
"Your idea – our drive": our drive solutions have set standards for numerous applications and sectors according to this motto. Our customers appreciate us as experienced development partners who, at the end of the process, deliver a technically and economically convincing result. Many innovative special systems with a planetary gear at their core have already been created in this way – for example our watertight, corrosion-resistant tubular motor for underwater unwinding systems in swimming pools. You benefit from this wealth of experience. Because no application is so special that we would not have the right solution – whether a complete customer-specific new development or planetary gears produced from our modular system, used for propulsion in automation technology, machine construction or the packaging industry.
Application examples for standard planetary gears
Backgauge drive for press brakes
Press brakes are used for bending sheet metal. For this purpose, a bending punch presses the sheet metal into a die which determines the bending angle. Modern press brakes, which are often CNC-controlled, can be used to fold and bend steel sheets several centimetres thick. The multi-axis backgauge used in the planetary gear of the GSA070 series ensures the exact positioning of the plates. This can be controlled to move repeatedly between bends to produce complex parts.
IML robot
In the in-mould labelling process (IML), pre-cut plastic films are inserted into an injection mould using a handling device. By applying a vacuum or static charge, the labels are fixed and then back-injected with plastic. The IML robots, which are equipped with a GSB065, handle the exact label loading of the moulds. IML robots are generally of modular design – the high positioning accuracy, fast availability and excellent price/performance ratio were crucial factors in the decision in favor of the GSB series.
Axis drive for laser cutting machines

The GSF090 planetary gear, with a gear ratio of i=10, is used as a machine axis drive (x- and y-axis) in laser cutting machines. A servo motor and a rack and pinion complete the unit. Thanks to the nominal input speed of 4,000 rpm and the maximum input speed of 8,000 rpm, the gearbox is ideally suited for use in fast, dynamic laser cutting machines. Due to the high positioning accuracy and high dynamic driveability, the GSF line is the ideal choice for applications of this sort.
Wheel hub drive for AGVs
Automated guided vehicles (AGV) distribute picked goods in roomy warehouse and trucking company halls. They usually work self-sufficiently. The AGVs are especially productive and economical if they are allowed to reach long travel distances and travel times without requiring repeated recharging of the energy storage units. This places special demands on construction and design. In particular, the vehicles and the installed components in it have to be lightweight and compact. Thanks to high bending rigidity, the high absorption of axial and radial loads and the compact design, the GSD line offers numerous advantages.
Angle gearbox for rotary tables
The GSBL070 angular gearboxes with gear ratios i=5 and i=10 are often utilized in rotary tables due to their design, their exceptionally high performance and their high input speeds. The angle design enables optimum utilization of tight installation spaces. The high-end angular gearboxes of the GSBL line, for example, shine particularly in the case of rotary tables with high precision requirements.
Height adjustment of operating tables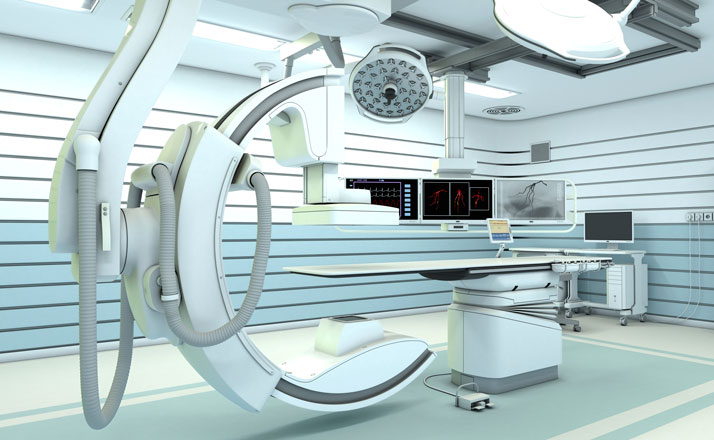 For height adjustment of OP tables, two aspects play an especially decisive role. Use in the direct vicinity of the patient means that high positioning accuracy and smoothness are indispensable. The planetary gears of the GFE line fulfill the noise minimization requirements through precision ground, helical cut gears.
Height adjustment of cleaning systems
As an example, the GSN060 planetary gear is used in the food industry. The decisive advantages in the application of this industrial kneading machine are the protection class IP65 and excellent quiet operating characteristics. By means of precision ground, helical cut gears, operating noise is reduced to a minimum with the GSN gearbox line.
Linear systems for precision portal systems
Modern laser cutting gantries assure high positioning and repeat accuracy with less than 1 μm tolerance while maintaining a highly dynamic process speed of up to 300 m/min. In the gantry drive units, rack and pinion drive systems – consisting of planetary gear, pinion and toothed rack – ensure the dynamic and positionally accurate motion sequence. The technically and economically sophisticated linear systems are used for positioning both the X-axes and the Y-axes. The key element of the drive system is a high-precision planetary gear of the GSD series from Framo Morat. The gear unit, designed for high radial and axial forces, impresses with its compact design. The robotic output flange ensures maximum torsional stiffness.
Drum motor drive for conveyer belts
Planetary gears handle numerous tasks during assembly. In this application example, the 2-stage planetary gears with a backlash of 14 arcmin and transmission of 49:1 are responsible for the removal of parts in automatic plastic injection molding machines.
Automation & Handling
Planetary gears handle numerous tasks during assembly. In this application example, the 2-stage planetary gears with a backlash of 14 arcmin and transmission of 49:1 are responsible for the removal of parts in automatic plastic injection molding machines.
Ring spindle machines in the textile industry
The PL050 planetary gear, with a gear ratio of i=10, is ideally designed for use in ring spindle machines in the textile industry due to its robust and cost-optimized construction. With their ability to handle 20,000 operating hours, the gears from the PL line are compelling with their long service life.
Application examples for custom planetary gears
Hub gearbox systems
Planetary gears with taper roller bearings are frequently used in applications in which high radial loads occur. With its longtime experience in gear and drive engineering, Framo Morat has developed a hub drive system based on a standard planetary gear. The custom design, which permits higher radial loads, reduces the total length of the
gearbox by more than 40%. The use of standardized ball bearings contributes to cost-effectiveness.
The wheel hub drive is based on a PS040 planetary gear with a gear ratio of 5:1. Taking account of the application-specific loads and requirements, as well as the desired gearbox ratios, almost all standard planetary gears can be used for such a drive system. The efficient and compact wheel hub drive is used in numerous intralogistics  applications, for example in warehouse shuttle systems or automated guided vehicles (AGV).
Curved stair lifts
A substantial component of a curved stairlift's main drive is the planetary gear. It is built to be much more compact than other gearbox variants due to its coaxial design. Another advantage is that the aesthetics and the noise behavior of the system are improved. In fast-rotating gearbox stages, gear parts made from technical thermoplastics are used for noise reduction, while steel components are used in slowly rotating but powerfully loaded stages.
Automated guided vehicles (AGV)
Customer-specific planetary gears are frequently used in automated guided vehicles (AGV) – whether in intra-logistics, medical device technology or agricultural technology. The gearboxes are used in wheel hub drives, as they enable a compact design in narrow spaces. The three-stage planetary gears with optimized bearings reach a high output torque of up to 300 Nm and a radial load of up to 12 kN.
Mobile satellite receivers
Positioning accuracy is a prerequisite for mobile satellites, especially for receiver systems. This two-stage planetary gearbox developed by Framo Morat uses the internal gear tension to reduce the torsional backlash of the entire system. Through manual control adjustments in the form of micromotion, high quality signals can be received.
High ratio gearbox systems for valve adjustments
Transmissions that have high gear ratios often take up a lot of space—especially with coaxial variants. In order to reduce installation space while at the same time operating at the required gear ratios, Framo Morat combines a worm gear stage and a planetary stage in a single gearbox. Thanks to the modular system and the high power density of the planetary gearbox series, as well as decades of experience in the manufacture of standard worm gear sets, Framo Morat offers a fast and low-cost solution. For medium to large quantities, complete custom designs and developments are also employed.
Tracking drive for mirror reflectors
This drive, developed by Framo Morat, is used to enable the tracking of mirror reflectors. During its development, great attention was paid to achieving minimum backlash and maximum torque. The drive consists of a servomotor a 3-stage planetary gear, a worm gear, a position tracking system and two adapter plates. A single drive moves a total mirror area of 330 m². One special aspect of this development was the adapted size of the various planetary gear stages. The planetary gears achieve a translation of 729:1.
Conveyor systems
Planetary gears are an indispensable element in drum motors for conveyor belts and rollers. The selection of 2-stage planetary gears made of plastic was mainly influenced by the need to keep noise generation as low as possible. The conveyors are driven forward by means of the friction between the drum motor and the belt.
Machine construction
Planetary gears that are used in machine construction must meet maximum demands regarding precision and durability. Three single-stage planetary gears with a transmission of 7:1 directly connected to three hydraulic motors turn the rollers in sheet-metal bending machines.
Underwater unwinding systems for swimming pools
Unwinding systems for pool covers are installed underwater and must therefore be absolutely watertight for years to come. For this demanding application, Framo Morat developed a special tubular motor that is doubly sealed using AQUASEAL technology and thus offers long-term corrosion resistance and is maintenance-free. The integrated 3-stage planetary gears consist of differing materials and supply a transmission of 1000:1 with an output torque of 300 Nm.
Contact person
Custom planetary gears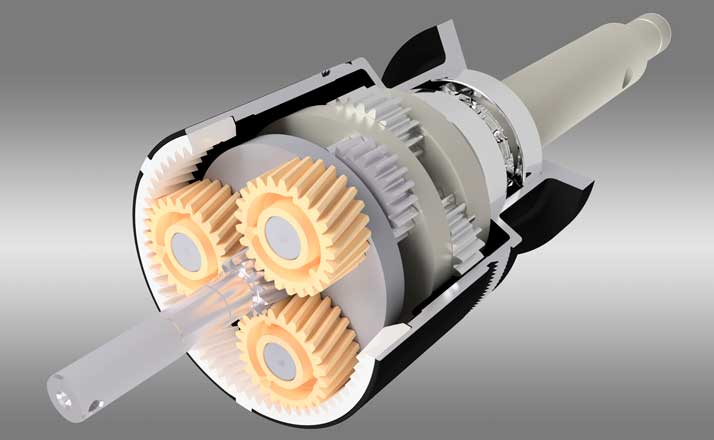 Planetary gears overview