Prototypes allow a drive concept to be tested before it enters series production. We produce prototypes in-house, which substantially shortens the development time. We collaborate with the customer to check whether our proposed solution has all the desired characteristics.
From the monitor to the production line
Due to our custom engineered drive solutions, which we continuously design and develop to meet your requirements, we have our own in-house department named Project Production, which is dedicated to building prototypes. The developed drives are produced in small runs, tested in collaboration with the customer and optimized for volume production accordingly. A quick, collaborative exchange between our customers and numerous departments also accelerates the prototype production process.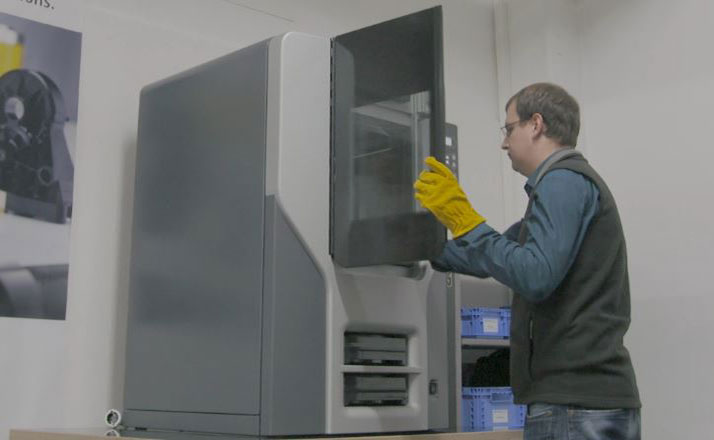 There is an option of quickly producing close-to-production components using rapid prototyping processes (3D printing) so that risk-prone components can be tested at an early stage. Barring some small differences, the design and function of the prototype is identical to the subsequent series product.
FDM (fused deposition modeling) – melting material layers
Installation dimensions: 254 mm x 254 mm x 305 mm
Materials: ABSplus model material, soluble special plastic support material
Max. tolerance deviation: 0.24 mm
Installation space temperature: 80 °C
Nozzle temperature: 300 °C
Five-axis hobbing machine
Framo Morat produces gearing, precision engineering and drive technology. In order to strengthen the Drive Engineering division and accelerate the availability of prototypes, we purchased an additional five-axis hobbing machine from Grob to use exclusively in project production.
X/Y/Z movement path: 600/770/805 mm
Motor spindle: 160/223 Nm, 25/35 kW, 16,000 rpm
Tool magazine: 40 tool pockets
Pallet load: max. 380 kg
Increased operating time and a reduction in tool replacements thanks to multiple clamping